Careers for Graduates in Civil Engineering or Geology
"What has stood out for me since joining CGL is, without sounding cliché, the people. Every single member of the team is extremely approachable and have always been more than happy to offer me help or guidance when I've asked. There are also lots of opportunities to get involved in a variety of projects… the combination of these factors has been fantastic for my development as an engineer."
Will Newton, Senior Engineer
Geology BSc from Royal Holloway University and Geotechnical Engineering MSc from Camborne School of Mines (Exeter University)
Apply Today
CGL is recruiting for Graduates to join our team, with opportunities developing in several CGL's offices across the UK and Ireland.
CGL has a proven track record as an inclusive, people-orientated company, delivering leading-edge services for a wide range of clients. We are passionate about developing the careers of our staff with training and career development provided at all levels in a supportive and flexible working environment.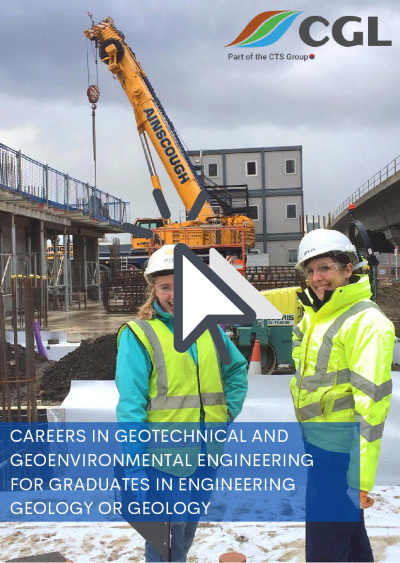 CGL is one of the largest geotechnical and geoenvironmental specialist consultancies in the UK with clients in residential, commercial and public sectors. About 62% of CGL's technical staff have postgraduate MScs or PhDs.
The CGL Career Path is a career-long approach to personal development and progression, which is unique to the specialist construction sector. The programme will support you through Chartership and beyond for further technical or managerial qualifications.
CGL offers rewarding and active careers around the UK for graduates with a Masters or Bachelors degree in civil engineering, engineering geology, geotechnical engineering, applied environmental geology, geology or Quaternary Science. With us you will work at the forefront of the construction industry, providing innovative solutions to investigate and manage ground-related risks.
Working at CGL, you will also benefit from an award-winning training and career development programme in a young and vibrant work environment. The company will actively support your Continuing Professional Development, both in your technical and managerial skills.
Q&A with Inigo Garmendia Odriozola, Senior Engineer
When did you join us?
 I joined in December 2019.
What attracted you to us/what was important when choosing a company to work for?
After graduating from university, I joined a contractor as a graduate engineer, mainly because:
I wanted to see how all the theory I learned at university was put into practice; and,
I wanted to gain more practical site experience and skills.
However, within 14 months, I realised that my site-based role lacked involvement in the conception and design stages of construction projects and was mainly focused on the execution and construction of already designed elements.  Therefore, I started to consider a career change into technical consulting that could offer me the opportunity to be part of projects from the concept and design stages and this way, assist clients in providing them with value-engineered, economical, sustainable and innovative solutions.
It was mainly the vast experience, great professionals and reputation CGL has in the detailed geo-structural design, numerical analysis and temporary works that made CGL very appealing to me.
Tell us more about your career journey with us. How has CGL supported your career growth?
Ever since I joined CGL, thanks to the close mentorship and supervision by some of the more senior staff members, I have had the opportunity to undertake a wide variety of design/numerical analysis tasks in a short period of time. This has made me grow professionally relatively quickly.
To put the above into perspective: I started as an engineer undertaking simple and straightforward tasks (desk studies, non-FE ground movement assessments, simple temporary work designs) and after three years in the company, I am now a Senior Engineer undertaking complicated FE analysis and asset impact assessments as well as complex deep basement temporary work scheme designs. In addition, I am currently providing training and mentorship to other junior members of the team.
In light of the above, I can confidently say that my journey in CGL has contributed (and is still contributing) very positively to achieving my ultimate goal of becoming a versatile and cross-disciplinary chartered engineer.
What does a typical day look like for you?
Given that I am involved in very different projects simultaneously on a weekly basis, I would say that every day is different. However, irrespective of the above, my days are always full of client engagement/liaison and frequent internal meetings/catch-up with colleagues.
In such a hectic industry like the construction one, it is essential to have an adequate work-life balance. Therefore, I always try to start and end the day with sports and spending quality time with my family/friends.
What do you like about our culture and working with us?
CGL is a very fast-paced company that strives to assist clients in extremely challenging and varied projects with very demanding deadlines and as a result, my working days tend to be very dynamic and different overall.  In addition, I have been very fortunate to have been surrounded by empathetic, respectful and very talented colleagues that have made teamwork and collaboration very simple and enjoyable.
All in all, ever since I joined CGL, I felt trusted, valued and empowered as an employee and this has definitely helped me step out of my comfort zone.
What tips would you give new graduates entering the engineering/construction industry?
Be humble, work hard and push your boundaries by taking risks.
Always look after your mental health and make sure you have a healthy work-life balance so that you can bring the best version of your full self to the workplace.