Mark Stringer
Regional Manager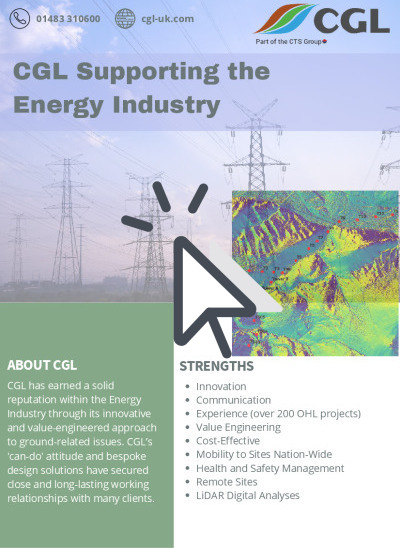 From power generation through to transmission and distribution, CGL supports a UK-wide network of clients within the Energy sector.  Our experienced consultants can help you solve ground-related problems through appropriate fieldwork and design-based services.  Our team can assess ground-related risk and provide cost-effective solutions focussing on client infrastructure during refurbishment, renewal or new build and/or route feasibility optioneering.
Our experience, geographical spread, safety record and technical skills have earned CGL an enviable reputation amongst suppliers to the energy and power sector through our innovative and value-engineered approach to ground-related issues. Our 'can-do' attitude and bespoke design solutions have secured close and long-lasting working relationships with many clients.
As an Award-winning specialist geotechnical and geoenvironmental consultancy, we are uniquely positioned to offer specialist advice and value-added solutions for ground-related problems. We have worked on projects ranging from large scale power station development works, power transmission infrastructure (overhead line towers and substations) and renewables (wind and solar farms) to smaller domestic ground source heat pump installations.  Our teams understand the engineering design implications for such sites – together with our specialist health and safety trained staff and partnering firms – to meet and surpass the demands of the industry.
CGL is recognised for our wide scope of services, working efficiently in a variety of conditions, often in challenging, hostile and remote areas of the UK.  CGL can specify appropriate, cost-effective solutions and procure them for an assortment of sites. CGL has extensive experience in infrastructure risk assessment, ground investigation, geotechnical design, material management, as well as health and safety management.
We can scope works from a value engineering perspective, or with involvement at the tender stage, we can review and appraise tender information, help to identify and quantify ground-related issues and provide robust design certainty for both permanent and temporary works.  Contributing to a holistic approach, we work closely with client teams to meet stringent construction programmes and budgets.
Our technical skills and innovative approach, combined with sound knowledge and understanding of legislation and design requirements, means appropriate ground solutions are provided in accordance with current guidance and best practice.
Safety is at Our Core. Our staff are trained to the highest industry standards, including qualifications for National Grid Competent Person BESC, HSG47, CSCS, Safety Passport and CGL is UVDB verified.
CGL's Energy Projects around the UK
The map below shows 200+ past and current CGL projects within the energy sector, spanning from Thurso to St Agnes.
Energy Sector Related Projects
Some of Our Energy Sector Clients: